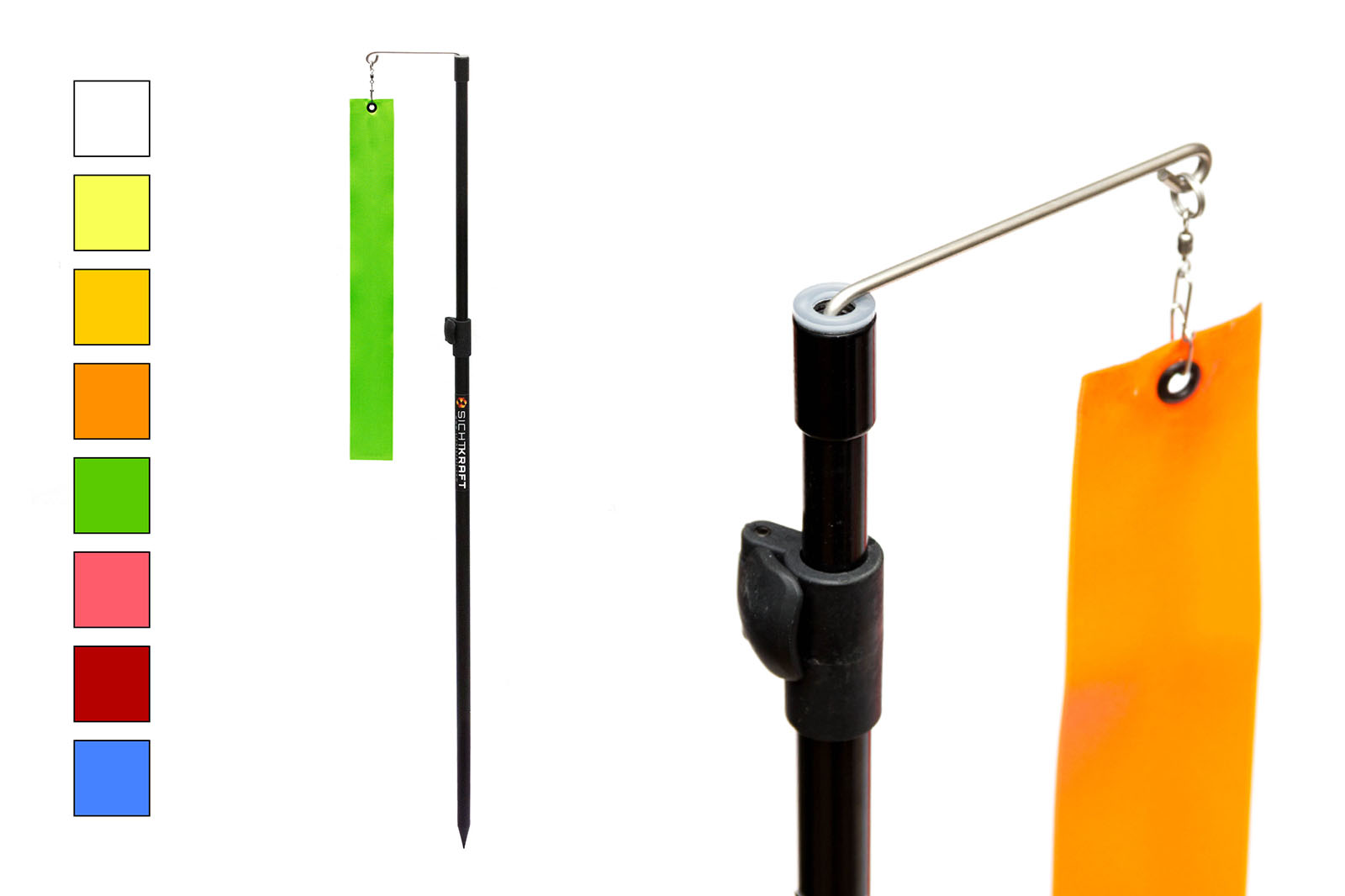 We are proud to announce a new product to extend the current SICHTKRAFT product line-up! As of this month, SICHTKRAFT offers wind flags for different types of shooting competitions.
There are two types of SICHTKRAFT wind flags right now, to comply with ISSF (International Shooting Sport Federation) specifications for 50 m ranges or with IBU (International Biathlon Union) specifications.
According to the ISSF rules, wind flags must be placed at 10 m and 30 m on 50 m ranges, on imaginary lines separating each firing point and its corresponding target. For IBU competitions there need to be wind flags for every second shooting lane 5 m from the shooting ramp and 20 m from the target.
The ISSF recommends wind flags with colors with a high contrast to the background. That is why we offer the SICHTKRAFT wind flags in 8 bright colors, some of them neon colors, for highest visibility even in low light circumstances. The IBU wind flags are currently available in bright red which is a good contrast to the white background of the snow.
The ground spike is made of aluminium and it is painted matte black. That way, there are no irritating reflexions and the shooters are not distracted. The ground spike is adjustable in height and it is available in two different sizes, 65 – 120 cm and 95 – 170 cm. This gives you the chance to compensate for uneven ground and have the height of all wind flags perfectly leveled.
The cantilever arm which holds the flag is made of stainless steel and it can rotate freely. A sliding disk made of weatherproof PVDF (Polyvinylidene fluoride) ensures the response of the flag to even the lightest winds. It also prevents distracting squeaking or friction noises in general.
All the small parts are made of stainless steel, too, just like the cantilever arm. So the product is 100% corrosion free.
The wind flags themselves are made of polyester fabric, ideal for outdoor use. The weight of the fabric of the ISSF type flags is according to specifications 150 g/m². According to the IBU specifications, the wind flags may not weigh more than 5 grams. The fabric of the SICHTKRAFT IBU type flags weighs 4,2 grams.
The wind flags are sold individually as spare part and can be replaced easily.
ISSF Type Wind Flag in the Shop
IBU Type Wind Flag in the Shop