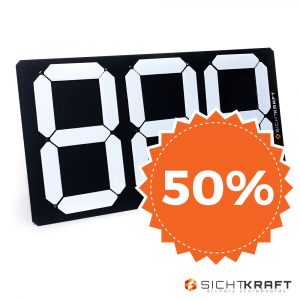 When manufacturing thousands of scoreboards, not all of them will turn out to be perfect. Your chance to save! We now offer a couple of factory seconds for 50% Off!
Factory seconds, that means the scoreboard do not meet the quality requirements for new products due to minor, mostly cosmetic faults. This can mean a couple of things. The range goes from discolorations or skewing of the digits (the most common case), to scratches, marks and production residues on the back plates. Other scoreboards might be from returns or trade show exhibits. All offered scoreboards have 100 % functionality! Even more, the errors are not even noticeable from a couple of meters away.
So be fast, the stock is limited!
Currently, there is a range of scoreboards listed, but most importantly, a bunch of 3D and 4DF.
Check out the Factory Seconds